The Today Show - eevi is featured
Wow! Great to be featured on the Channel 9 Today Show, and thanks to our good friends at Aveo Newstead for helping make this happen.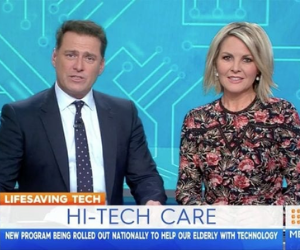 It was great to watch the Today Show on how Aveo Newstead residents Meredith and Ian found eevi so simple and easy to use. Rather than finding the technology foreign and overwhelming, with it embedded in the things they use every day, it gave them peace of mind without the angst that can be associated with high tech gadgets.
This positive user experience is the result of asking our target market what they wanted. From hundreds of hours of interviews with older Australians in a first of its kind design sprint in 2017, we were able to understand and address their anxieties and frustrations when it comes to using technology. For more information on this design sprint or to learn more about our other design sprints visit our provider's page or contact us for further information.
With eevi already offered at Aveo Newstead and plans for Aveo to roll out our solutions across villages around the country, we are confident eevi will be a point of difference for retirement communities looking to provide tech solutions for residents.
eevi is a provider of care technology for senior Australians. Our products consist of Personal Emergency Response Systems (PERS), or otherwise known as medical alarms, which aim to provide peace of mind and 24/7 emergency assistance to both senior Australians and their loved ones. We currently support over 8000 lives across Australia and the number is only growing. We continue to conduct insightful research for the community and the industry which recognises senior Australians and technology. To find out more how eevi can support you or a loved one, please contact us via our website. We are more than happy to assist and answer any questions or queries that you may have.
Care by your side. That's eevi.